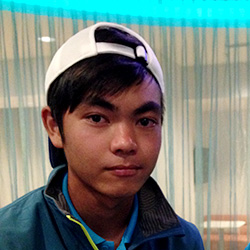 Trip to America.
Hi this is Aimen Sho and I am writing my report based on what I've done in America and how I've done.
I left on July 14th with so much excitement because it's my first time and I'm going with my good academy friends! Before we left we had many gatherings and discussions on the trip and that made me even more excited for the trip, it was building up intensely. We had a flight to Narita airport before leaving to Los Angeles. It totalled up to 13 hours of flying just for one day which is not nice. We left at 11 am Okinawa time and landed at 2pm American time.
Once we have reached our destination we were reunited with one of our teammates who is Genki. We also then met our Enagic instructor Tom. The first thing I thought of when I got there was the American food. We had a practice session once we left the airport. The place we practiced at was such a beautiful place. Just as I thought of America. We got to practice on this green which stretched out to 75 yards! We could practice chipping and putting but unfortunately not bunker shots which is my key weakness. All of us practiced together until night and were given subway for snacks. Once it got darker we finished practice and left for dinner at tgif. Finally I was given American food. I remember having a classic burger and it was so good.
All of us were prepared for the big competition coming up which was the main reason for us coming, the Enagic Junior Golf Championship held at the Legends Golf Club. Some of us had to go for the qualifiers because we didn't do well in Okinawa. The qualifiers will be held on the 18th as a one day event. Only 12 boys makes it into the finals. I hope to make it and will practice hard for it. Three days before the event we had practices and we went to a range to work on our swing. My first range session went well and my swing was looking good. I had the confidence which I don't normally have. I was prepared for my first practice round.
The day of the practice round came and I was looking forward to it as I wanted to play my best golf. It didn't start too well cause I was unfamiliar to the course and I didn't know how to play the holes. I was hitting drives carelessly without knowing. I ended up shooting a 79 on my first practice round which was not bad but I could have done better. I had to motivate myself to do better in the next round. Everyone didn't do too well as it is their first time as well. The course isn't the toughest in the world so all of us felt disappointed with our scores. We went back to our hotel and we went for a swim to cool down. It was so cold as it was an outdoor pool. We had fun and we got prepared for our next practice round session.
We got there early in the morning for a fresh 18 holes. I started off well with a 37 on my front nine which was not bad and my coach Kota had scored an albatross. It was my first time seeing a second shot going in on a par 5 and I was shocked. He was playing well and I just thought that I can't lose to him! On my second nine, I had played better but it could have been better. Shooting a par 36 on my second was not too bad to be honest. Total was 73 which is my second best score which I am pretty happy about and I felt really confident about my qualifying round.
The big day finally came and I was ready. Once I got to the golf course, there was a lot of people and I finally know what I am up against. The competition looks fierce but I had no fear. I start on the 8th tee box to a shotgun start. I practiced and still look good in form. I had nothing to worry about. I started off well with a birdie but on my second hole I missed a foot birdie putt which ended up being very costly. I wanted the best possible start but it was still acceptable. I played a one over 37 on my front nine but it could have been better than that if it wasn't for the careless mistakes. I had to do better on my second nine if I wanted to make the cut. I didn't get off to the best of starts but I couldn't give up. Unfortunately I finished with another one over 37 which totals me up to a 74. Even with this score I thought I made the qualifiers. With all the scores coming in I see my name drop to 13th which made me so disappointed. I missed the qualifiers by a shot. America is really high standard.
I went back to the hotel wondering why I failed to qualify and I thought about all the mistakes I made. How I wish I could go back in time and fix those. I could have played under par. For those who failed to qualify we would be signed up to a different tournament for the next two days. It was the College Combines Golf Tournament. It was a low level tournament but I was still upset over the AJGA tournament. I couldn't concentrate on my game as I was too depressed. We left for Oak Valley Golf Club the next day. The course wasn't as nice as the Legends Golf Club and we had no practice round. The course was tough and it was really narrow. I played an 83 on my first round. I played bad and was disappointed again and hoped to do better on the next day. Unfortunately I wasn't playing my best and shot an 83 again. I ate three burgers to make me feel better.
The good thing is that we had a free day coming up and we had a choice to go to either Disneyland, Shopping or practice. I and a few other boys went shopping cause we thought Disney was way too expensive and who wants to practice on your free day. When we left for shopping we had no idea we were going to Hollywood! It was an amazing surprise and we took a lot of photos. I bought three snapbacks and two of them are souvenirs for my siblings! It was such an amazing day but the people there were pretty scary asking for tips and threatening us. It was hard for me being the only one to speak in English so I had to deal with all of them. After we walked around Hollywood and the walk of fame, we went to the Santa Monica Pier. This is a familiar site to the world and it was such a beautiful beach with a theme park. We then had lunch at Bubba Gump. After we were done with the pier we left for Macys, one of the biggest malls in the world. We regrouped with the other team players after we were done. It was such a fun day.
We had two more tournaments coming up which was the SCPGA which stands for South California professional golf association. First was the Recreational Park and second was the Ping 2 day series at Industry Hills Golf Club. We had no practice round for the recreational park event but I knew I could do well. My best friend Hazwan came to support me and he followed me through 18 holes which shows you why he is my best friend. I had to do well if not he came to see nothing. I started with a 3 over 39 which was horrible after a birdie start. I knew I must do better on my second nine to get a chance. I started the second nine with a birdie which lifted my spirit! I went on to make two other birdies and two bogeys which left me at one under 35 on my second nine which was good. I finished with a 74 which was acceptable. I waited and saw two people who played better than me with a 72 and a 73 in first and second. I was sitting in third nervously waiting for everyone's score to be written down. Thankfully I finished third and I was awarded with a beautiful medal. I was so happy and I won it in front of my best friend. He was then invited to have dinner with all of us and it ended as a great day.
The next tournament came up and I was looking to do better in that tournament. This course was very tricky though with very narrow holes which is not my favourite thing. I started with an 86 on my first day which was terrible. I shanked my ball a couple of times which shocked me. Disappointment once again. Second day came up and I was paired with my teammate which was fun. I didn't concentrate and I was enjoying golf which ended up as me shooting an 89. That ended my golf in America and it was fun! Hoping to play there again one day.
To finish things off in America we had the Enagic Convention we are all looking forward to in Las Vegas! It's the place everyone dreams of going to and I never thought I would be going there. I was hyped as were the others. We had a 5 hour bus drive from Torrance to Vegas. We took some beautiful shots on the way there. Once we reached Vegas it was like entering paradise. It was so nice and lovely. It was jaw dropping. We were staying at the hotel called Mandalay Bay which is where the convention is being held. We were invited cause we are a part of the Enagic golf academy. It was blazing hot as the temperatures went up to 46 degrees Celsius. It was hot for the face. The pool there was amazing as there were wave's machines. It was like a dream.
The day of the convention has come and we were given shirts to wear specially for the event. We were all called up and we had to introduce ourselves to the Enagic workers in English. It was not a problem for me but for the others as they can't speak in English. The introduction went well for the afternoon session and we had to wait for the main event at night. While waiting we had to work. Our work was to sell our golf merchandise to the public. It was difficult as everyone was speaking in English so I was again the translator of the group. We had to work until 4 pm and we were given free time to do what we want. I chose to sleep cause that's who I am. We were all called up for the dinner and we had to come with our blazers and we all looked smart. The dinner went well with amazing food being served to us. We were given 5 star food such as steak, prawns and more. As Enagic Golf Academy members, we were called by the CEO of Enagic, Mr Ohsiro. We had to perform the traditional Okinawan dance and song with him. It was a nice experience.
On the next day we were flying back to Okinawa which I am extremely sad about cause I was having such a good time there with great accompanies. But the time was coming eventually. We had three flights on the day totalling up to 15 hours. It was rough. We came back to Okinawa with great experience and a great time. I would like to thank Mr Ohshiro for making this trip possible and to all the coaches and parents to watch over us. It was truly a fun trip and I enjoyed it so much.
| PLAYER | 予選順位 | 予選スコア | 本戦順位 | 本戦スコア |
| --- | --- | --- | --- | --- |
| Sho Aimen Nashiro名城 アイメン ショー | T15 | +2 (74) | - | - |